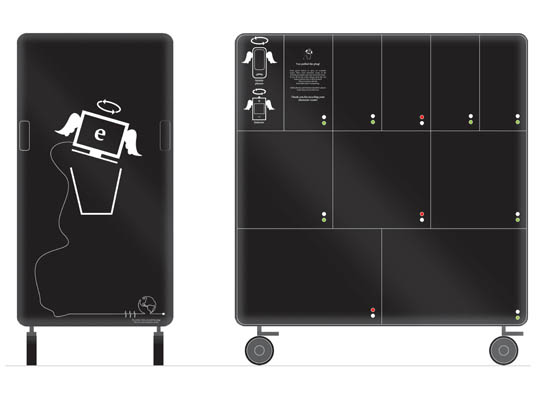 Eva Harlou* designs electronic waste bin, NYC.
"Be careful when you pull the plug! Recycle your electronic waste!"
The recycling bin is designed as a simple shape that suits all modern urban environments. The bin comes in black or white and is a locker system. User instructions on the bin says: You pulled the plug! Press the green button to open an available locker. Place your electronic waste as far back as possible andclose the locker door. If you fill up the locker please press the red button and the door will be locked! This is to protect the binfrom theft and/or tampering. Mobil phones and batteries should be placed in the holes next to this text. Thank you for recycling your electronic waste! The recycling bin is made of recycled polyethylene HD with a weather resistant construction and UV stabilizers. Handles and wheels make is easy to transport the bin from on place to another. The logo and buttons on the bin light up at night referring to electronic waste and giving the bin an almost futuristic appearance. The locker system with different sized lockers makes it possible to handle the electronic device with care. Throwing electronic waste in a normal waste container there is a risk of breaks and leaks. The locker system makes it possible to pack the e-waste rationally and makes it easy to overview the waste when emptying the bin. Further more the locks prohibit theft and tampering. When all buttons are red the bin is full! The wheels are removable and the bins are easy to stack on the waste disposal site. The bin has a modern look that appeals to many people. Touching the bin is like touching a Mac product – it's smooth and gorgeous with straight simple lines, a nice surface, rounded corners, funky buttons and a shiny logo. You feel more special using the locker bin system than throwing stuff into a regular waste container. The bin itself refer to modern technology and electronic devices.